To find out if your system is ready for a new software update you need to look up the Software Version (example below: 5.0.1) displayed on the configuration screen of your Hyundai full map navigation system.
Looking up and comparing the Software Version
To look up the "Software Version" of your Hyundai navigation system you need to look first for the configuration screen of your system.

1. Switch on your navigation system and wait until the system is completely booted.

2. Press Setup key for a minimum of 5 seconds (

) and the configuration of your system will be displayed.

3. Look up and/or note the Software Version.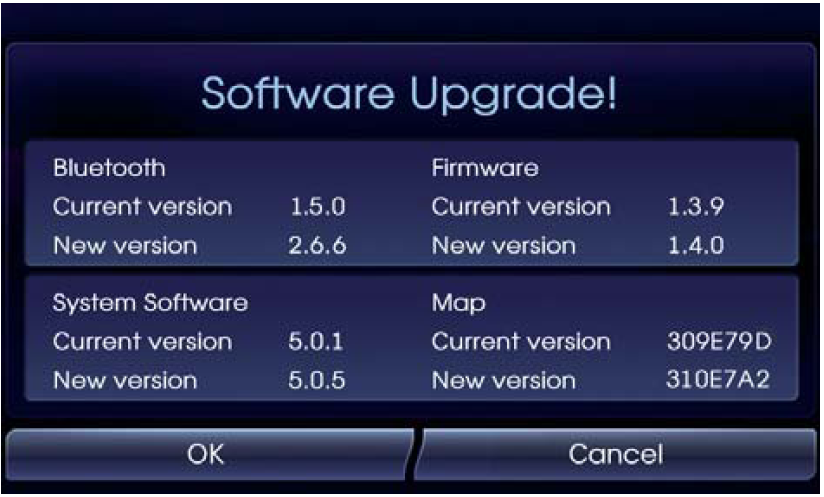 4. If your current software version is lower than 5.1.3 you cannot update to the latest version via this web site, Software Version 5.1.3 is only available at your Hyundai dealer. This is required before any further software updates are possible.

If your current software version is equal or higher than 5.1.3 click "here" to download the latest Software Version 7.5.8 to your PC and unzip it afterwards to the root directory of an empty USB stick with a minimum capacity of 1GB.

Plug in the USB stick to your Hyundai Navigation device which will automatically detect the software update on the USB stick.

Accept the update with OK and ensure that the engine is running while the Software is updated. This process will take a couple of minutes.

Once the software has updated and the system has automatically rebooted press "cancel" on the pop up window to finish the update process. Remove the USB-stick.
Software Update